225 Years UMCG
A small hospital, with only eight beds. That's how UMCG once began, 225 years ago. It's hard to conceive of the journey through time that little hospital in the centre of Groningen has made since the autumn of 1797. With approximately 13,000 people working here together day after day to provide care, research, training and education, these days, we can be accurately described as a 'city within a city'.
In this 2022-'23 anniversary year, we will be highlighting UMCG's history and how our role has evolved in the course of those 225 years. We will tell the stories of patients, staff and many others involved in UMCG. And we will take a look ahead, at our continuing evolution and how we will tackle our upcoming challenges together.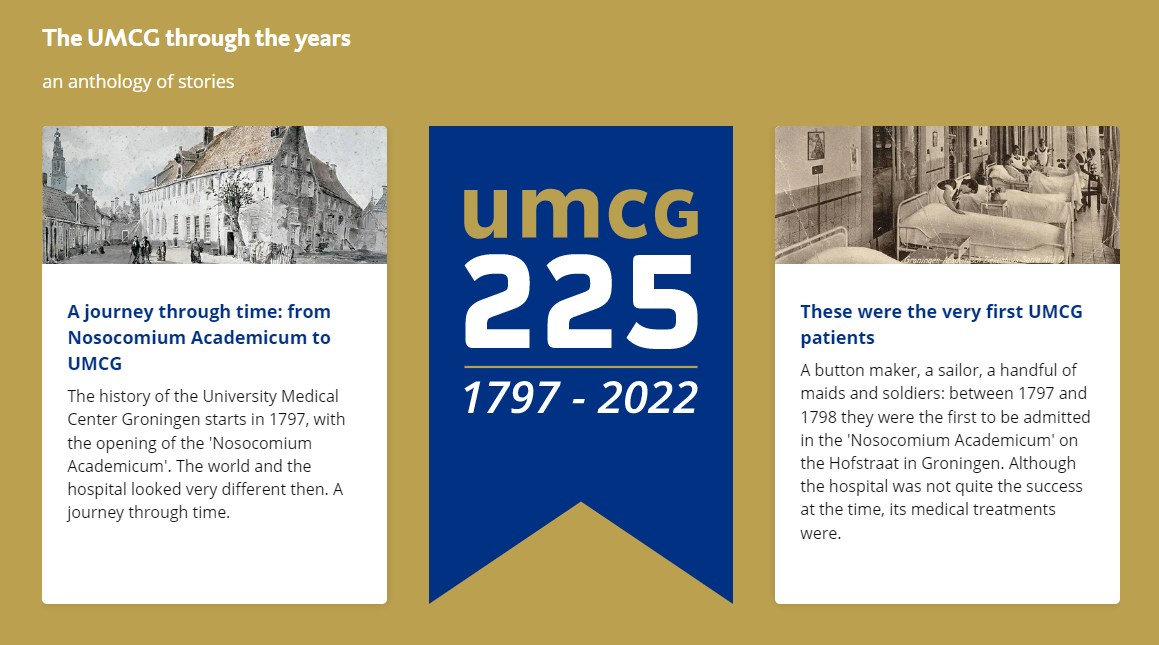 In 1797, Professor Evert Jan Thomassen à Thuessink decided on Groningen's Green Orphanage, in a former Jacobin monastery on Oude Ebbingestraat, as a suitable location for a small teaching hospital. Who was this professor with his thoroughly Dutch first name and distinguished-sounding last name? What was his motivation?

Evert Jan Thomassen à Thuessink was born on 6 August 1762 in Zwolle as the son of the city's mayor. It was soon apparent that he was extraordinarily gifted. At the age of twelve he entered university to study philosophy and medicine. Eight years later, at not quite 20 years of age, he graduated as a Doctor of Philosophy. He was immediately appointed as an Extraordinary Professor of Philosophy in Franeker, which also housed a university at the time. Evert Jan Thomassen à Thuessink had other plans, however.

In 1783 he left to continue his studies in Leiden. At 23, he gained a PhD in Medicine there. Possessed of a curious and inquisitive turn of mind, he made study trips to then-faraway places such as Paris, London and Edinburgh. He learned as much as he could from the famous doctors at the great hospitals there. A few years later, replete with new medical knowledge and experiences, he returned to the Netherlands. He began work as a general practitioner, first in his birthplace Zwolle and later in The Hague. Thanks to the wealth of medical knowledge he had gained, his reputation grew and he was kept busy in both places.

While treating patients, Thomassen à Thuessink also maintained an interest in research and the latest developments. He therefore accepted a professorship at University of Groningen in 1794. With the city's and province's support, he founded the 'Nosocomium Academium' three years later. Publications on infectious diseases such as scarlet fever, measles, yellow fever, cholera, smallpox and 'Groningen disease', which killed off 10 percent of Groningen's population in 1826, earned him many accolades, even far beyond Dutch borders. And in his new position as Professor Medica Clinicea, Evert Jan Thomassen à Thuessink could finally pursue all his dreams at once - treating patients, researching new methods of treatment and teaching students.
Evert Jan Thomassen à Thuessink would probably burst with pride to see that meanwhile, University Medical Center Groningen has grown to be one of the Netherlands' largest medical centres and the largest employer in the Northern Netherlands. At UMCG, approximately 13,000 people work together day after day on the provision of care, research, training and education, with one shared goal: to expand our boundaries and achieve a sustainable future for health. Our hospital, which once began with eight beds, is now a renowned university medical centre serving patients and residents of the Northern Netherlands and beyond. Over the past 225 years, we may even have become the hospital of Evert Jan Thomassen à Thuessink's dreams: an inquisitive organisation that researches, teaches, shares knowledge and offers people the care and treatment they need.
The world around us is changing. We are living longer and the number of people with chronic diseases is rising. At the same time, more is possible medically than ever before. The need for care will continue to increase in upcoming years. This despite the fact that our healthcare system has been faltering for a while now. Affordability is under pressure and finding new colleagues is difficult.

In this turbulent, rapidly changing landscape, we provide complex, academic hospital care and search for solutions to complicated health and care issues. We do so through research, innovation and collaboration with others. By doing better each day, we continuously expand diagnostics and treatment boundaries. Together, we work to build a future-proof healthcare landscape.

Prophylaxis is an important factor in achieving that sustainable healthcare landscape. This is why we are increasingly committed to the prevention of disease. We aim to add more healthy years to people's lives. We see this as our duty to society; one that requires a certain amount of daring. It means we are working on many different challenges simultaneously. Research must be adapted to fit current and future social challenges even more closely than before. Our training and educational programmes prepare professionals to face this new future.

As UMCG's founder, Evert Jan Thomassen à Thuessink is an important source of inspiration to us. After his first promotion, instead of settling for an easy life as a Philosophy professor, he basically began his studies all over again. His heart belonged to medicine, to medical research and the education of youth. UMCG: 225 years young!
18th International Forum for Back and Neck Pain Research

Registration website for 18th International Forum for Back and Neck Pain Research
Wenckebach Instituut for Education and Trainingpaog@umcg.nl
Wenckebach Instituut for Education and Trainingpaog@umcg.nlhttps://www.lbpforum2023.com
2023-08-29
2023-09-01
OfflineEventAttendanceMode
EventScheduled
18th International Forum for Back and Neck Pain Research18th International Forum for Back and Neck Pain Research0.00EUROnlineOnly2019-01-01T00:00:00Z
University Medical Center GroningenUniversity Medical Center GroningenHanzeplein 1 9700 RB Groningen Netherlands