Welcome Reception
The welcome reception will take place before the first day of the conference on Tuesday August 29th. While enjoying various lovely snacks (no full dinner) and a drink, it is a chance to catch-up with friends, meet new people and make connections with colleagues from all over the world. The welcome reception takes place at DOT Groningen. This creative meeting and event space is uniquely designed with an outside terrace with beach vibes (see picture below). DOT Groningen is located in the city center of Groningen and about a 10 minutes walk from the UMCG (main entrance).
 
Starting time: 18:30 PM
End time: 21:30 PM

Address:
DOT Groningen
Vrydemalaan 2
9713 WS Groningen
Website: please click here (website available in Dutch language only)

Click here for the route from UMCG to DOT Groningen (location venue).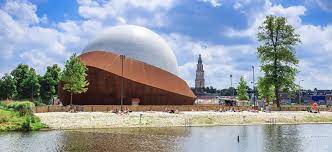 18th International Forum for Back and Neck Pain Research

Registration website for 18th International Forum for Back and Neck Pain Research
Wenckebach Instituut for Education and Trainingpaog@umcg.nl
Wenckebach Instituut for Education and Trainingpaog@umcg.nlhttps://www.lbpforum2023.com
2023-08-29
2023-09-01
OfflineEventAttendanceMode
EventScheduled
18th International Forum for Back and Neck Pain Research18th International Forum for Back and Neck Pain Research0.00EUROnlineOnly2019-01-01T00:00:00Z
University Medical Center GroningenUniversity Medical Center GroningenHanzeplein 1 9700 RB Groningen Netherlands