Travel information
Public transport
The city of Groningen has a direct railway connection with Amsterdam Schiphol Airport, the travel time is 2.5 hours every 30 minutes.
For a personal itinerary please check www.ns.nl, also check the website www.schiphol.nl/en/.

By bus
Several local busses (Company Q-buzz) depart from the Main Railway Station Groningen to the University Medical Center Groningen. The bus stop at the UMCG is situated at the Main Entrance of the hospital. Plan your bus journey here.

By car 
When approaching the city of Groningen by car, please follow the signs which indicate UMCG.
Parking facilities are available in the garage P-Noord, entrance Vrydemalaan and garage P-Boterdiep, also entrance at the Vrydemalaan (both paid parking) 

Groningen is a small city, so most locations to and from this conference are within walking distance (1.8km).
The Main Railway Station (Groningen) is situated at about 20 minutes walking distance from the UMCG (see map below).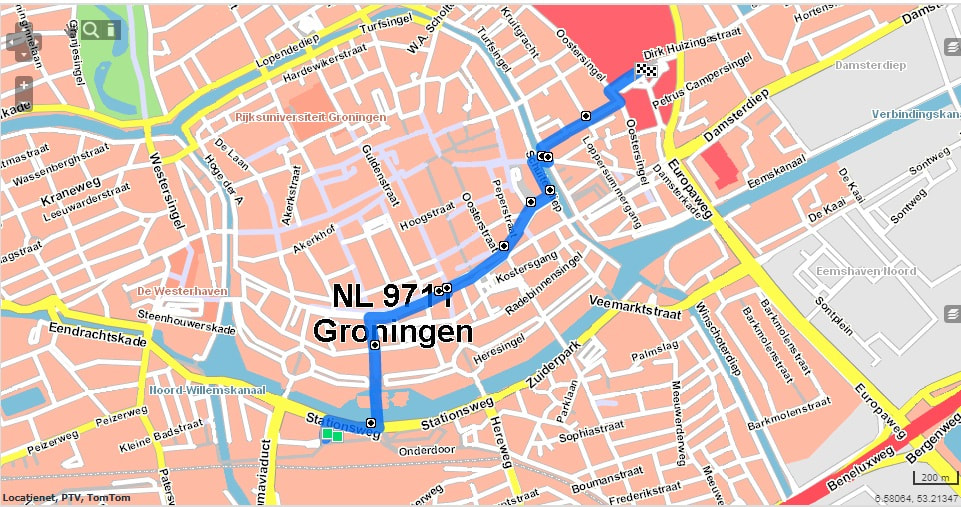 18th International Forum for Back and Neck Pain Research

Registration website for 18th International Forum for Back and Neck Pain Research
Wenckebach Instituut for Education and Trainingpaog@umcg.nl
Wenckebach Instituut for Education and Trainingpaog@umcg.nlhttps://www.lbpforum2023.com
2023-08-29
2023-09-01
OfflineEventAttendanceMode
EventScheduled
18th International Forum for Back and Neck Pain Research18th International Forum for Back and Neck Pain Research0.00EUROnlineOnly2019-01-01T00:00:00Z
University Medical Center GroningenUniversity Medical Center GroningenHanzeplein 1 9700 RB Groningen Netherlands